Share this URL: http://bioskopenetwork.peatix.com
Event is FINISHED
BIOSKOPE: Network (1976) | 4 Academy Awards
*UPDATE: Due to an unforeseen emergency, we have to postpone this to next Saturday evening (3 Mar). Thanks so much to those who have signed up for your kind understanding when we called up regarding the postponement. To those who are keen to join in next Saturday evening, you can get your ticket here: https://bioskopenetwork.eventbrite.sg GUILDHALL will still proceed as usual.






LIMITED SPACES: Join us for BIOSKOPE of a multiple award-winning film right before our first GUILDHALL on 'fake news' on 24 Feb evening! Have you ever wondered what it would take to amplify one individual's beliefs across a nation so strongly that it could lead to mass hysteria?
EARLY BIRD SPECIAL. T
hose who register early will get good, tasty cold-pressed healthy juice in reusable hard glass bottle courtesy of Green Hydrant, brewed at Katong. On
e of our small ways to go local
and help support the surrounding Katong community.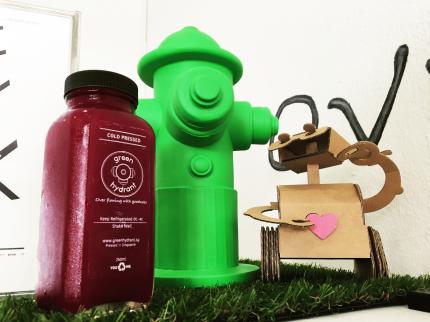 FILM SYNOPSIS
In this lauded satire, veteran news anchorman Howard Beale (Peter Finch) discovers that he's being put out to pasture, and he's none too happy about it. After threatening to shoot himself on live television, instead he launches into an angry televised rant, which turns out to be a huge ratings boost
for the UBS network. This stunt allows ambitious producer Diana Christensen (Faye Dunaway) to develop even more outrageous programming, a concept that she takes to unsettling extremes.
In February, we will be exploring the what-ifs and complexities in the area of freedom, security and justice (AFSJ) that could also help inform us in developing strategies to address the spread of deliberate falsehoods through mass media.
TASTE MAKING
For the duration of the event, there will be finger food and refreshment,
along with a 'mood-inspired' food making session, where you get to craft your own food from ingredients to choose from based on a mood of your choice ;)
Since it's the Chinese New Year season, you also get to taste delicacies and sweet treats.
For the fun of it, let's see how creative and credible you can get in doing 'false marketing' for the finger food and refreshment! And give a try at writing 'fake reviews' and 'fake descriptions' that sound so real that people would actually believe it and want to eat it too :D
BIOSKOPE (inspired by the word 'movie theatre' in Bahasa Indonesia and 'an early movie projector' in English) is a series exploring less popular, unique films that may bring thought-provoking and inspiring perspectives into our society. Beyond movie screening, audiences get to experience hands-on sessions, to provide an interactive element to the film medium.
We're also helping to fundraise for future community outreach initiatives. Proceeds help cover refreshment, tools, material & facilitation costs, grow BIOSKOPE, space rental and build up the ground-up innovation movement.





To learn more or to explore collaborations, kindly PM us or connect with us at support@groundupinnovation

.org

P.S: For those unfamiliar to Network, we kindly advise you not to Google it for an optimal experience ;)
read more
Updates
The event description was updated. Diff#318840

2018-02-23 11:23:01
More updates
Sat

Feb 24, 2018
3:00 PM
-
6:00 PM
SGT
Add to Calendar
Venue

MOX, Katong Point
Tickets

THREE'S A CROWD: 3 Seats (Save $12)

SOLD OUT

$48.00

BRING A FRIEND: 2 Seats (Save $4)

SOLD OUT

$36.00

STANDARD: 1 Seat

SOLD OUT

$20.00

EARLY BIRD: 1 Seat

SOLD OUT

$18.00

13-26 YEARS: 1 Seat (Show IC/Student Pass for entry)

SOLD OUT

$15.00
Venue Address

451 Joo Chiat Rd, Singapore 427664

Singapore
Directions

Near 112 Katong. Proceed to Level 2. If from City Hall or Dakota MRT, take Bus 16. If from Paya Lebar MRT, take Bus 40. If from Bedok or Kembangan MRT, take Bus 32 or 40.
Organizer
Want to find more groups and events like this?